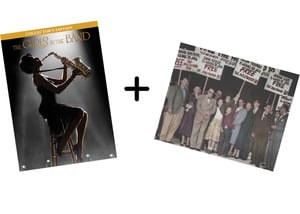 $

39.98 - On Sale
Special offer! Buy both of Judy Chaikin's feature films THE GIRLS IN THE BAND along with the Emmy-nominated LEGACY OF THE HOLLYWOOD BLACKLIST together!
Regularly $49.98 for both, only $39.98 if you buy them bundled here.
-----
Do you want only ONE of these DVDs?
To buy only THE GIRLS IN THE BAND, visit http://thegirlsintheband.com/buy-the-dvd/
To buy only LEGACY OF THE HOLLYWOOD BLACKLIST, visit http://onestepproductions.com/legacy-of-the-hollywood-blacklist/